Authors and Publications
Smeed Dean's Wharf, Murston

It comes as no surprise, therefore, that given the current climate, when interest in the town's past is at an all-time high, several new first-time authors have emerged to satisfy the public's thirst for knowledge about their town. This is added to by a large number of in-comers who are new to the district and who want to know more about where they live. In the nineteenth century two names stand out, they being George Payne and Canon Scott Robertson whose works remain an essential reference point for today's local historians who build upon those early works, questioning the early misconceptions and sometimes challenging their hypotheses. From these new works a new understanding of our town and the surrounding district has emerged. This is the joy of being a local history buff; you are forever discovering new things.

What follows is a synopsis of each of those authors, including the books they have written and most importantly, where you can buy them.


Newington Street and Place Names
Bredgar - The History of a Kentish Parish
Author:
Helen Allinson
Buy: Synjon books, Heritage Museum, Oad Street Craft Centre
Historic Buildings and Grand Houses of Sittingbourne
More Family Businesses
Sittingbourne A History
Swale Villages Through Time
Milton Regis Through Time
Family Businesses of Sittingbourne
The Inns & Pubs of Sittingbourne and Milton Regis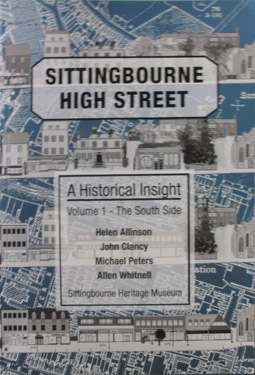 Sittingbourne High Street
Life in the Workhouse - The Story of Milton Union, Kent
The Journal of a Victorian Lady - Lousia Thomas of Hollingbourne
Newington Times Past