Helen Allinson
Born in Bromley when Bromley was in Kent, Helen has lived in Sittingbourne since 1974 and worked as a primary school teacher. She has always been interested in history. It was during the 1970s, when she and her husband attended Borden church, that with a group of friends she recorded the inscriptions on the tombstones in the churchyard and sent the records to Kent Family History Society. Family history was already a hobby but recording these inscriptions led to a determination to find out about the lives of these people.


Years later in 1992 her first book, a history of Borden was published by Synjon Books. Synjon Books was started by Helen's father as a hobby in his retirement. Borden was a success and a new revised edition was published in 2003. It is once more out of print.

Helen had become addicted to local history research and began to find out about the history of the parish of Bredgar with many visits to archive offices and libraries. Her Bredgar history came out in 1997. The book has been out of print for ten years but a new, revised and much enlarged edition is due out in time for this Christmas.

After Bredgar it was on to Hollingbourne which proved to have a very different past of grand houses and wealthy gentry. That book was published in 2002 and is now out of print.
The next book was rather different; 'Life in the workhouse the story of the Milton union', came out in 2005 and describes the harsh dealings with the poor in the workhouse which stood in Milton Regis and which housed those most in need from 18 surrounding parishes. This is still available from Synjon books, via their website,
www.synjonbooks.co.uk
It is also sold locally by Sittingbourne Heritage Museum, Sittingbourne library and Nickel books.
A family book which Helen edited followed in 2007. This is 'Growing up in Edwardian London; Maude's memories'. Maude Barker, Helen's grandmother had hand-written her memories of growing up in a comfortable working-class family in south London before the First World War for her grandchildren. This too is still available.
'Farewell to Kent' was published in 2008 and is the story of poor people from all over the county whose passage was paid to America, Canada, Australia or New Zealand to assist them to emigrate. It is still in print.

The following two books about Sittingbourne were edited by Helen and published by the Heritage Museum.

Helen convenes their history study group and the first fruit of their research was 'The inns and pubs of Sittingbourne and Milton Regis' which was published in 2009 and revised and updated in 2010.

The second of these books was 'Family Businesses of Sittingbourne', published in 2010 which tells the story of eight local businesses.




These are available from the museum or from their website: www.sittingbourne-museum.co.uk

In 2012 Synjon Books published 'The journals of a Victorian lady; Louisa Thomas of Hollingbourne' . Helen was allowed to borrow from the family the 27 volumes of diaries written by Louisa during her long life, and edit them. It makes for a fascinating social history. This is available from Synjon Books web site, the museum and the library.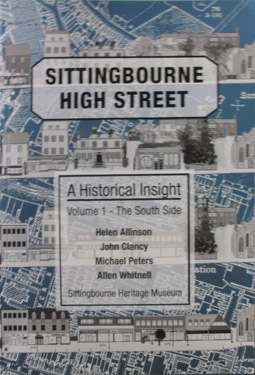 Also in 2012 Helen co-authored with Michael Peters, John Clancy and Allen Whitnell 'Sittingbourne High Street; a historical insight. Published by the museum, this was volume one, the south side of the street, and it is hoped that volume two will be out for Christmas.