Art in the Park
Yesterday I popped along to the Art in the Park event at Milton Creek Country Park to find out what it was all about.
There were some ominous looking clouds gathering, the wind was picking up and it was trying without much success to rain.
Russell Wood with his paintings
Perhaps not the best start for a family day out, but undeterred plenty of people were out and about enjoying the event.
Ellie Farren with Sioux Peto
Sadly I learnt that a huge selection of market stalls had cancelled at the last minute apparently to attend an alternative event, but for those that didn't know it didn't matter and there was plenty to see and experience anyway.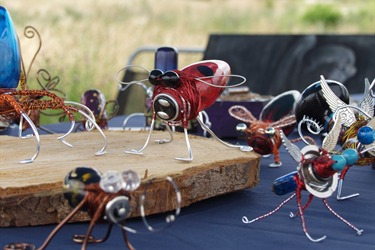 Nikki Baker's wonderful bugs - Luniac Designs
Deep thinker, Michael Tyler - Creepy Craws
Eco Shed - Recycled bird feeders
This was only a small selection of what was on offer, so if you have photos of your own or something to add then please add a comment below.
Andy Hudson
Sittingbourne.Me
Comments
There are currently no comments.