Bapchild Village Hall Unveils New Sign
Bapchild and Tonge residents gathered on Sunday to see a new Village Hall sign unveiled. The Hall, in School Lane, Bapchild is celebrating being on its present site for 25 years.
It was built in 1988 and replaced an older Hall that was constructed in 1921 as a memorial to those men from Bapchild and Tonge who died in the First World War.
From left to right, Steve Pettett, Bapchild Village Hall Committee Chair Valerie Smith and Alan Ball.
Unveiling the sign, Valerie Smith, Chairman of the Hall's Management Committee, said the picturesque Hall is thought by many to be one of the finest in Kent. She thanked CS One Designers of Tonge and the acclaimed Medway artist Mark Barnes for their generosity in designing and donating the artwork for the sign.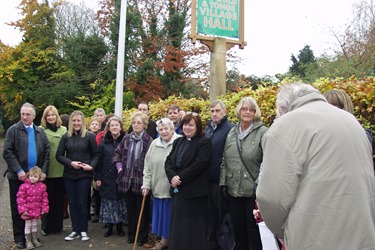 She added that their excellent design work captures the essence of the Village and the people that live there and the sign enhances the identity of the Hall.
The Hall is a popular venue for wedding receptions and parties and is used during the day by several organisations.
The Hall's website is
www.bapchildvillagehall.co.uk
and bookings can be made by phone on 01795 429625 or by e-mail on
info@bapchildvillagehall.co.uk
.
Andy Hudson
Sittingbourne.Me
Comments
There are currently no comments.