Borden, Iwade and Newington are the big losers in the housing stakes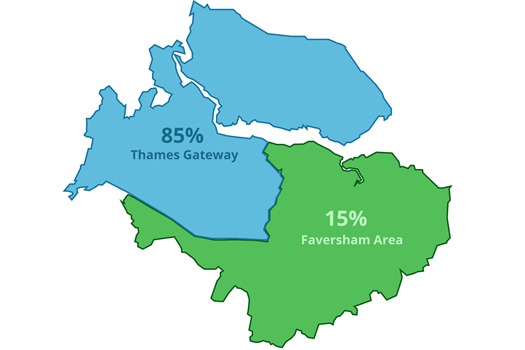 As the agenda is released for what will no doubt be a controversial meeting, we finally get to see an indication of the sites likely to come forward to meet the new housing targets imposed on us by central government.

The Council are due to discuss in detail the changes to the borough Local Plan recommend by planning officers at the Local Development Framework Meeting on Thursday 19th May. It should be noted that there may be changes ahead of the public consultation which will take place in the summer, but this does give us some insight into what we are likely to see in the final document.

Unsurprisingly the Thames Gateway portion of the borough is to take a whopping 85% of the new housing which is shown in the above diagram.

Believe or not I wasn't expecting the Faversham share to be quite so high, but obviously this is in no way representative of the existing population split, or need for affordable housing where it is most required.

The actual numbers are more complex than it might first appear, this becomes apparent when you start adding up numbers in the draft Local Plan and find out that they are wrong, yes I'm seriously thinking about buying Swale Borough Council a calculator because this seems to be a constant issue for them. Although probably not helped by the fact they make it so complicated in the first place.

So in a nutshell the new number for the whole borough is 14,130 which is 938 above the target figure of 13,192 (i.e. 17 years' x 776) and previously it was I believe 10,871 making a 3,259 increase. There are some reductions as well as gains so some of what I'm about to say might not sound quite right, but it is.
So where is the new housing in the Sittingbourne area, well the big gains are Iwade (572 houses), Newington (115 houses), Borden (564 houses), the Town Centre Regeneration (271), Land North of Quinton (80), Crown Quay Lane (185), Manor Farm (10) and Milton Pipes (50). The later five are extensions on existing sites and these numbers are in addition to those already proposed. So if you add that lot up we get 1,847 representing 57% of the increase, but as I said there are some reductions but these are difficult to attribute to specific areas.

Faversham broadly gets a further 834 houses nearly half of which are at Perry Court which already has planning permission and the Isle of Sheppey gets another 1,000 or so.

The housing at Iwade and Borden was rather sadly predictable and known about during the time the enquiry was held, but I think there have been some surprises too, namely that the Council are sticking to their guns and not including the site at Swanstree Avenue.
Andy Hudson
Sittingbourne.Me


Comments
There are currently no comments.