Carved benches highlight park's rich wildlife
Felled trees have been given a new lease of life after being transformed into seating for Milton Creek Country Park.
The Milton Creek Trust has installed two new benches carved from timber that was recovered from diseased trees on The Grove, Sittingbourne.
One bench has a bee design to reflect the park's importance as a haven for local wildlife.
The other, suggested by the council, is in the shape of a crushed can. This specially commissioned piece is a memorial to the late Chris Ewell – the 'Can Man'. Chris raised thousands of pounds for charity collecting cans on his recognisable bike and selling them as scrap for recycling.
The benches have been installed on a new art trail being created in the park and give visitors a chance to sit and enjoy the sights and sounds.
Lynda Marshall from the Milton Creek Trust said:
"The Milton Creek Trust is pleased to have been able to contribute to the creation of the marked trails encouraging people to explore the park and discover more of what it has to offer.
"The addition of seating provides a great opportunity for people to rest and allows them to stop and stare and take in the beauty and tranquillity to be found in the midst of this urban environment."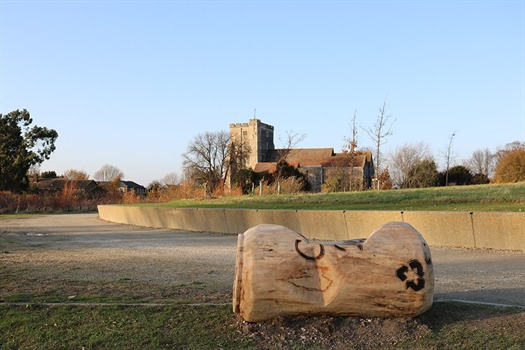 Cllr David Simmons,
cabinet
member for environment and rural affairs at the council, said:
"It is always unfortunate when we need to remove trees that are suffering from disease, but I'm delighted we have found a way they can still be enjoyed by local people.
"The carver has done a wonderful job creating these benches, and I hope the tribute to Chris will bring a smile to the faces of all those who knew him."
The benches were carved by Tracy Johnson, and the memorial bench was paid for by the trust from fundraising activities over the summer.
To find out more about Milton Creek Country Park, including how to get involved with the friend's group who work to develop and maintain the park, visit
www.miltoncreek.co.uk
.
Comments
Showing comments 1 to 2 of 2

Tracy Johnson has created something unique with the bench that has bees and a honeycomb effect finish.
Comment by J. Warren on 14 Feb 2019

Brilliant idea, Love that the benches are using recycled wood from trees that would otherwise have simply been destroyed and that one of the benches is in the shape of the crushed can, a brilliant idea and fine epitaph to a local man who cared very much about re-cycling. Well done Sittingbourne.
Comment by Christine Solley on 29 Nov 2017