Chalk it Up makes Sittingbourne smile
Adding a splash of colour to Sittingbourne High Street, the chalk art festival proves popular once more with residents and shoppers alike this weekend.
If you are unfamiliar with 'Chalk It Up!' it's a weekend where special permission is granted on selected walls, pavements and alleyways for artists to create temporary works of art using chalk.
The event which is only in its second year is brainchild of local artist and manager of Marvellous Murals Dean Tweedy and at one point it looked as though the event might not happen at all, after The Arts Council and Ideas Test declined to fund it.
Such is his self-belief in the popularity of the event, that Dean ended up funding the majority of the event himself. Councillor Mike Baldock stepped in at the last minute with a contribution of £300 and attended the event. Councillors Ben Stokes and Paul Fleming also very kindly donated funds too.
What's so inspirational about the festival is that anyone can take part regardless of your artistic prowess and many do working alongside professional artists in perfect harmony.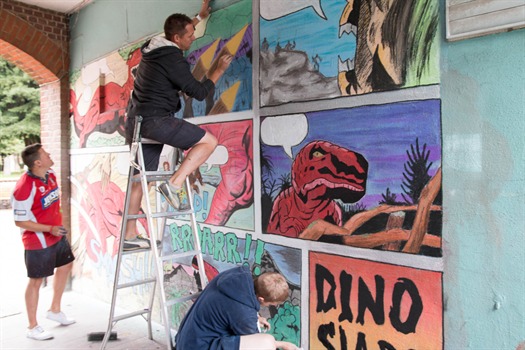 It was brilliant to see the public's reaction, the big smiles on their faces, stopping to have a chat with the artists or playing a kind of treasure hunt trying to find every last artwork.
Best of all anyone could join in with selected works, including the 'Sitty Cats' wall where lots of young children and myself had great fun, getting messy creating the most unusual cats you've ever seen.
Even long after the festival had packed up on Sunday, people were still walking along the high street, popping into every alleyway to see what they could find.
This festival and others run by the Swale Arts Forum have made a significant impact on our town and have time and time again proved popular with the public and I thank everyone involved for helping to make Sittingbourne a better town in which to live.
Andy Hudson
Sittingbourne.Me


Comments
Showing comments 1 to 1 of 1

Thank you for your continued support and I'm glad you picked up the chalk and got involved once again. Here's to next year!
Comment by Dean Tweedy on 16 Sep 2015