Chloe's colourful design transforms roundabout.
Chloe Archer who attends Minterne Junior School, became what might be the final winner of the Sittingbourne in Bloom Design the Station Roundabout Competition.
On Wednesday morning Chloe, accompanied by grandad Mr Robert Jones popped along to see first-hand her floral design which has been lovingly recreated by Blenwoods, the Council's landscape contractor.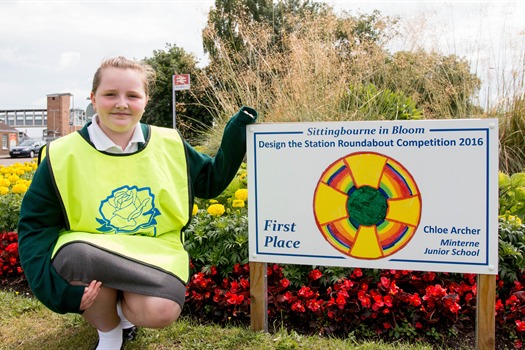 Chloe who managed to beat off competition from hundreds of other pupils attending Sittingbourne junior schools said she was excited to have won.
Mr Jones told us that she is very creative and enjoys drawing and wouldn't be surprised if she founded a career in design.
Malcolm Moore, the Chairman of Sittingbourne in Bloom, said "this could be the last year the roundabout features in the annual competition as it is due to disappear when the road system is altered to make way for the new development planned for the Forum car park site."
"If that is the case then the competition is going out on a high note as Chloe's design is a riot of colour which really lifts the area. But if the roundabout does go that will not be the end of the competition as we are planning a new site which should be safe from future development."
Andy Hudson
Sittingbourne.Me
Comments
There are currently no comments.