Community Day
Today the Forum Shopping Centre held its very first Community Day where various local organisations and community groups provided an opportunity for local residents to explore a range of activities on offer, watch a performance from the musical Hairspray and generally raise awareness of each of the organisations present.
We were very pleased to meet with so many lovely people who generously allowed us to take their photos for our website, so in no particular order.
Sittingbourne & Milton Regis Branch of The Royal British Legion members Fred Langworthy (chair), Dennis Austin and Arthur Creed (vice chair).
The team behind the bid for a new purpose built Skate Park in Sittingbourne, Dave Green, Daniel Green, Yaz, Jordan Rogers and Nathanial Spacey.
Beverley Willis and Chris Butting from the Sittingbourne Rotary Club
A Flash Mob occurred today at the Forum Shopping Centre as part of a promotion of the forthcoming musical Hairspray which will be on 29th, 30th and 31st August at Borden Grammar School.
Sharon Baker and Dan Harris from the Historical Research Group of Sittingbourne
Robert and Davina Davis from the Fibromyalgia Support Group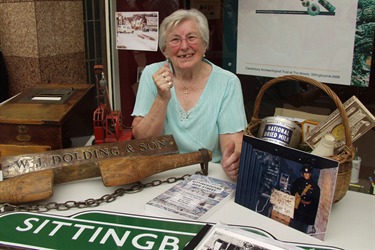 Shirley Mannouch from the Heritage Museum.
Sara Seabridge who is running the Save Phenoix House campaign.
Comments
Showing comments 1 to 1 of 1

Who says Sittingbourne is boring and there's nothing to do? This selection of clubs and societies is only the tip of a very large ice berg. Let's hope the Forum repeats this highly successful day again next year [or sooner!] and that next time more people will want to get actively involved. Good to see so many friends there, including the 'Sittingbourne.me' photographer!
Comment by JOHN CLANCY on 19 Aug 2013