Community take to the forum once more
First impressions were a little lacklustre as previous Community Activity Day's put on courtesy of The Forum Shopping Centre have been really good and for whatever reason it was difficult not to notice the absence of some of the usual participants. I would imagine however that organising events mid holiday season is never going to be easy.
Still we started the day with chatting live on air with Tony Weaver on SFM 106.9 about our website and how the various community groups are starting to come together to bring forward new ideas and events which whilst might be on a smaller scale now, do have the potential to become those big headline events that we all wish we had in our town.
We also spoke with Karen Bird and college Becky who said that they had a great time yesterday promoting their meetings at the Weight Watchers Sittingbourne Centre .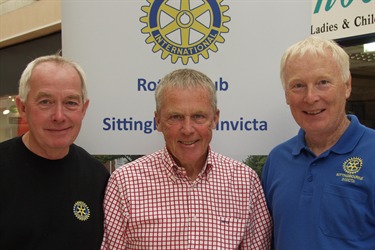 And stalwarts of these community days, the Rotary Club of Sittingbourne Invicta, were present as ever. Thanks to Peter Toffs, Chris Porter and Richard Joy for taking the time to say hello.
The highlight of the day was undoubtedly the performance from all-female vocal group Sounds Familiar who did a set featuring some old classics; songs to sing along with from well know musicals and even ventured forth with an interesting take on Amy Winehouse's Rehab.
With only five of the normal eight members of the group present, Sisters Victoria and Georgia Haddock, Lorraine Pearce, Hannah Walker and Su Haddock did a sterling job.
Unfortunately with no PA, my video fails to do the group justice as the camera picks up a lot of background noise, so please bear that in mind.
You can find out more about the group on their
Facebook page
and why not see them for yourselves a their 'Sounds of the Silver Screen' A night of music from the Movies at Sheppey Little Theatre on 30th August. Tickets available from Kirsty 07900 680759.

Andy Hudson
Sittingbourne.Me
Comments
There are currently no comments.