Creative crafty talent on show at fair
I've been to a few craft fairs since we started the website and it is always a pleasant surprise to see what you might discover at one of these events and this month's Food and Craft Fair at Newington village hall did not disappoint.
How nice it was to catch up again with the chaps from First Ascot, Luxury Jams, Jellies, Preserves and Chutneys whom I first met at the Christmas Lights Switch on. I can't recommend their products enough we enjoyed three different preserves over Christmas and they were all first class.
I absolutely love these products from Claire Sinden of Polka Dot Corner, very much on trend and Zoe now wants a butterfly one badly.
https://www.facebook.com/polkadotcorner22
These pin cushion jars, which come with safety pins, x 2 thread, needle threader, needles, pins and buttons are also by Polka Dot Corner.
Lovely handmade soaps and products to use in the bath by Bath n Bubble. Highly recommended by Zoe who loved the basket of goodies I brought last time around.
www.bathnbubble.co.uk
Louise Goddard, a ceramic artist from Ashford had some lovely jewellery. The photo below shows some ceramic items.
Goddard Ceramics on Facebook
Laura and Sophia pictured above with some of their original art photography.
https://www.facebook.com/OriginalArtPhotographybySandL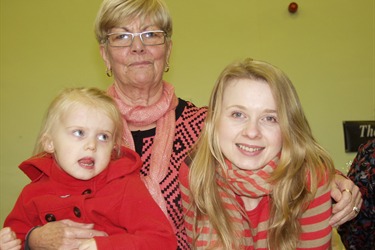 A family outing for Natalia and Sabina Lis, along with Linda Callow (center) who were out showing their woolen knitwear for the very first time.
Erica and Richard Mattews who were selling their brand of Chilli Sauces, called Hot Face Sauces.
www.facebook.com/hotfacesauces
Andy Hudson
Sittingbourne.Me
Comments
Showing comments 1 to 1 of 1

Great review-thank you Andy. So pleased you enjoyed yourself. See you on the first Sunday of every month in Newington for the Food & Craft Fair x
Comment by Catherine on 02 Feb 2014