Donations, funding and access to Ministers, was it all appropriate?
You may have heard of Quinn Estates, the prolific Kent based housing developer.
The group of companies – whose chief executive is Mark Quinn – is involved in a number of schemes in Sittingbourne.
These include a plan to build 675 houses in Wises Lane in Borden, the town centre regeneration and proposals for up to 12,500 homes in south Sittingbourne called the Highsted Park Garden Village
Mark Quinn and his companies have enjoyed a close working relationship with the former Conservative leadership of Swale Borough Council and Sittingbourne and Sheppey MP Gordon Henderson in recent years.
But just how close? And has Quinn Estates received preferential treatment as a result?
The Wises Lane 'cash for favours' row involving Housing Minister, Robert Jenrick
Highsted Park discussed with Chancellor.
Gordon Henderson MP attempts to arrange for Mark Quinn to meet the current Transport Minister, Rt Hon Grant Shapps MP.
The scandal of Quinn Estates drafting a KCC bid for government funds which would have directly supported the Highsted Park proposals.
Former council leader Andrew Bowles plea to Lord Heseltine to support Highsted Park.
Sittingbourne and Sheppey Conservatives election mandate to deliver a garden community between Bapchild and Kent Science Park.
Questionable involvement of Quinn Estates in developing the borough's Transport Model.
Did Highsted Park assist in increasing our housing targets?
The Housing Minister
Quinn Estates recently made national headlines after becoming embroiled in the Robert Jenrick 'cash for favours' row.
Earlier this year Housing Minister Jenrick faced calls to resign for showing unlawful "apparent bias" in fast-tracking a £1 billion London development by former Daily Express owner and Tory donor Richard Desmond.
Quinn Estates' planning application for the Wises Lane development stalled back in July last year following the election of a new coalition-run Swale Borough Council.
So the company appealed, putting the decision in the hands of the Planning Inspectorate.
In August officials from the Ministry of Housing sent a letter on Mr Jenrick's behalf which indicated that he should determine the application himself
Like Richard Desmond, Mark Quinn is a political donor. Quinn Estates made three donations to the Conservative Party totalling £37,500 just before and just after officials under delegated powers with no ministerial involvement made a decision to recover the appeal.
The first donation for £11,000 was made on 1st August 2019, followed by a further £13,000 on 4th September 2019 and another £13,500 on 27th September 2019.
Highstead Park
Wises Lane may have made national headlines, but it is a drop in the ocean compared with the Highsted Park development.
A scheme of unprecedented proportions Highsted Park is equivalent to all the housing built in Swale over the last 20 plus years.
It also includes a new motorway junction on the M2 known as Junction 5a and a road linking this junction to the A2, known as the Sittingbourne Southern Relief Road, and a significant expansion of the Kent Science Park.
The science park's owners, Trinity IM, are Quinn's partners in the Highsted Park scheme.
To fully appreciate the consequences of what follows, you should make a mental note of June 2016.
By this time a government inspector had ruled out the scheme's inclusion from the councils' long-term development planning document, the Local Plan. This outlines all planned development until 2031.
It explicitly excludes the expansion of Kent Science Park, housing development associated with Kent Science Park and the notion of a Southern Relief Road and M2 junction 5a.
Gordon Henderson MP
The Sittingbourne and Sheppey MP has spent many years campaigning for a new motorway junction and link road.
He has however, argued that it should not be funded by housing development.
So Gordon could not possibly support the Highsted Park scheme, could he?
Quinn Estates' own website promoting the development features the following quote from the Sittingbourne MP:
"I very much welcome the proposal for an A2/M2 link. Residents and businesses in Sittingbourne are badly affected by its poor road infrastructure, which is why I have always advocated a Southern Relief Road, to link up with the Northern Relief Road once it is completed. Such a road would reduce congestion in Sittingbourne and the surrounding villages."
We know about three donations totalling £37,500 made to the Conservative Party by Quinn Estates. But are they the only payments the company has made to the party?
Portcullis Business Clubs are local private business clubs operated by Members of Parliament. They give business people access to politicians and raise money for the local Conservative party. These donations are a matter of public record but the fund-raising activities are not. It is impossible to know where the money came from.
Gordon Henderson operates such a club: the Sittingbourne and Sheppey Portcullis Business Club. Patrons include Mick Drury and Oliver Doubleday. Drury is a director of Sittingbourne property developer Mulberry Estates – Quinn Estates' partner in the Wises Lane development – and Oliver Doubleday is one of the primary landowners involved in the Highsted Park scheme.
In 2019 Gordon Henderson's Portcullis Business Club donated £5,822.81 to the Sittingbourne and Sheppey Conservatives, followed by a further £4,227 in 2020.
Back in 2014 commercial building company PQW Foundry Limited donated £3,000 to the Sittingbourne and Sheppey Conservatives in support of Gordon Henderson. Quinn Estates chairman Mark Quinn was at the time a director of PQW Foundry.
The Transport Ministers
In 2016 Transport Minister Rt Hon Chris Grayling MP visited the constituency and met with local businesses to discuss road infrastructure problems.
Gordon Henderson MP told us "Mr Quinn turned up at that meeting, uninvited, and raised the issue of the A2-M2 link road. Mr Quinn asked me to arrange a follow up meeting with Mr Grayling and I advised him to contact the Secretary of State direct, as was mentioned in my letter thanking him for visiting my constituency."
The meeting took place in April 2017 and was also attended by local Conservative councillor Mike Whiting.
This January Gordon wrote to current Transport Minister Grant Shapps trying to arrange another meeting with Quinn Estates regarding the proposed new motorway junction.
Gordon said "Following a request from Mr Quinn I did agree to write to the current transport minister to explain that Mr Quinn would like a meeting with him to discuss Junction 5a on the M2"
But Shapps declined on the basis that the scheme is not included within the Local Plan and 'it would not be appropriate' to grant a meeting with the developer on this specific proposal at this time.
Gordon also explained that setting up meetings with ministers when requested is standard procedure for MPs and has arranged meetings for various people, including members of the current administration of Swale Borough Council, Cllrs Truelove, Baldock and Bonney, who also met the transport minister to express their concerns about the borough housing targets.
The Chancellor
Quinn Estates had also met with the Chancellor, to discuss the Highsted Park plans prior to meeting Chris Grayling in April 2017.
These meetings occurred during a public examination of the council's local plan, which is designed to be impartial.
More importantly, the Inspector overseeing the examination had already made it clear that Highsted Park was a long-term opportunity for a future Local Plan and would not be included within the current plan.
Cllr Mike Whiting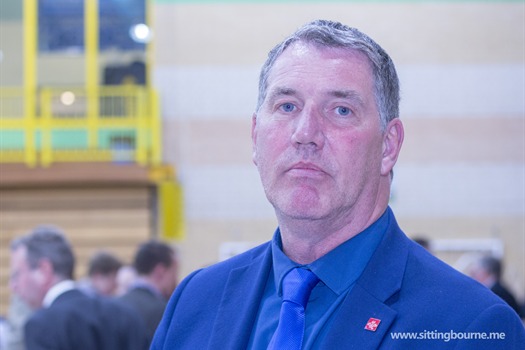 Mike Whiting is both a Swale Borough Councillor and Kent County Councillor. He has also been employed by Gordon Henderson MP working in his constituency office.
His dealings with Mark Quinn go back several years.
In late 2013 Quinn and former KCC education chief Whiting were in talks over Barton Court Grammar School's plans to expand into Herne Bay.
In 2014, acting in a new role as PR manager for the school, Whiting went on record supporting the Quinn Estate proposals.
In February 2011 Mike Whiting is quoted in multiple newspapers as saying,
"I am opposed to the expansion of the Kent Science Park and opposed to massive housing developments south of the A2, between the A2 and the M2."
During early 2017, acting on behalf of Gordon Henderson MP, Whiting attended a number of meetings with Mark Quinn of Quinn Estates and Richard O'Boyle of Kent Science Park.
In May 2019 Mike Whiting stated in his election literature that he is
"Supporting the development of a garden community between Bapchild and Kent Science Park."
The Housing Infrastructure Funding (HIF) Bid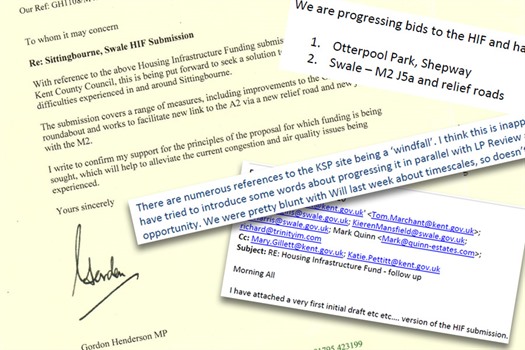 The Housing Infrastructure Fund provides billions of pounds for road improvements to make land available for future housebuilding schemes.
In summer 2017, Conservative-controlled Swale Council, Quinn Estates and Kent Science Park were colluding on Kent County Council's bid for a share of this fund.
While KCC was in charge of the final submission, the initial draft of the bid document was prepared by Quinn Estates. In the event of a successful bid, the company stood to benefit by £3 million from the funding of a new Swale transport plan. No other developers played in any part in drafting this document.
Swale council leader at the time Andrew Bowles said it would not have been appropriate for Quinn Estates to write the draft. Fingers were pointed in the direction of council officers but no action was ever taken.
However, email correspondence obtained via a Freedom of Information request shows Andrew Bowles was party to conversations on the HIF bid.
Mike Whiting acting on behalf of Gordon Henderson sent an email to various people including Andrew Bowles to explain that Gordon had raised concerns about barriers to funding with the housing Minister and further to that meeting the housing minister had sent Gordon details about the new Housing Infrastructure Fund.
Andrew Bowles emailed Gordon four days later and said "Will need further conversations with you on bid to much larger scheme. Follows on from conversations you, Mike and I have held with Chris Grayling, Mark Quinn etc.
On 6th September 2017 the owners of Kent Science Park (AG Kent BV), Quinn Estates Kent Limited, G.H.Dean and Co Limited, Attwood Farms Limited and various members of the Attwood family entered into a promotion agreement.
One of the objectives of the agreement is to investigate all possible means of funding the design, construction and/or delivery of the link road using public money.
Possible funding sources were outlined including Central Government, Kent County Council, South East Local Enterprise Partnership, Thames Gateway Kent Partnership and Highways England.
On 7th September 2017 Bowles promoted the Highsted Park scheme with the Kent & Medway Economic Partnership. This is an organisation that promotes projects to the South East Local Enterprise Partnership.
The Transport Model
In the space of just four months from adopting the current local plan an agreement was signed between Swale Borough Council, Kent Highways and Quinn Estates to co-fund a new baseline transport model.
This would become the basis for all future transport assessments related to their developments including the Kent Science Park scheme and the Wises Lane development in Borden.
The transport model is supposed to provide an independent and transparently procured evidence base for the emerging local plan review.
Whilst the council at the time maintained that it is common practice for planning authorities to work in partnership with potentially interested parties on the production of a base transport model rather than having separate models, it is notable that Quinn Estates were the only developer involved.
Andrew Bowles
At the tail end of 2016 while Gordon Henderson was busy introducing Mark Quinn to the Transport Secretary, Andrew Bowles on behalf of Swale Borough Council wrote to the Thames Estuary Commission.
The Thames Estuary Commission which was headed up by Lord Heseltine at the time is strategic body who aims to promote long-term transformation and economic growth in the Thames Estuary.
In his letter to Lord Heseltine, Bowles outline plans by Swale Borough Council to support the expansion of Kent Science Park, a new M2 junction, link road and a cluster of community villages.
Once again we must emphasise that this was mid-way through a local plan public inquiry at a point in time where this scheme had already been ruled out and this nearly two years before the government launched their prospectus on Garden Communities.
Quinn Estates also submitted material to the Thames Estuary Commission.
So, were Bowles and by association the council itself working on a secret parallel version of the Local Plan?
Garden Villages were subsequently proposed by the Swale Conservatives as a way to facilitate the enormous housing growth projections supposedly being forced on them by central government.
However the timeline at the bottom of this page illustrates the concerted effort that the former leadership of the council made in lobbying for higher housing numbers.
Public opinion had not been receptive, to say the least, to the idea of a Garden Villages, especially in the location of the Highsted Park proposals.
The Conservatives had narrowed down the prospective candidates for Garden Villages to four possible locations. However, their own housing targets would have required a minimum for two of these schemes to have been progressed.
In March 2019 in the run up to the local elections and whilst still leader of Swale Borough Council, Andrew Bowles goes to the press and officially backs plans for the Quinn Estates scheme, ruling out the three rival schemes, at Bobbing, Faversham and Sheldwich.
However, in April 2019 the council issued a statement which refuted that claim
"No decision has been made about whether garden communities are the way forward for the next Local Plan. So far, the Local Plan Panel has agreed to continue exploring the approach as a potential alternative to meet the housing targets set by the Government."
The Local Elections
By time of the local council elections of May 2019 the Sittingbourne and Sheppey Conservatives were not even trying to shy away from their love affair with the Kent Science Park and the Quinn Estates Highsted Park Garden Village project.
A large number of Tory candidates made an election manifesto promise to support the delivery of a garden community between Bapchild and Kent Science Park.
Firstly, for clarity, we should point out that there was only one proposal for any such development in that location, the Quinn Estates Highsted Park scheme. Secondly the council had not even decided on whether or not to adopt the principal of garden village type settlements.
This means that a number of current, serving Conservative councillors have a predetermine interest in both the principal of garden villages and in the Highsted Park development.
Did Highsted Park assist in increasing our housing targets?
The relentless campaigning over a 16 year period in favour of the expansion of the Kent Science Park by the previous Conservative regime has vastly undermined the councils ability to argue the case for lower housing targets.
The associated housing was always going to significantly increase housing numbers, and therefore protestations against the governments proposals were at best half hearted and completely contrary to what the council was seeking.
FEB 2011
Andrew Bowles backs plans to build 925 houses per annum, including 5,000 houses at the Kent Science Park.
MAR 2011
Public backlash forces council into accepting 540 houses per annum as their target.
JUN 2016
Independently appointed government inspector rules out Highsted Park scheme from Swales local plan.
SEP 2016
Andrew Bowles and Quinn Estates both write to Lord Heseltine promoting the case for Garden Villages and in particular the Highsted Park scheme.
JUL 2017
Swale Borough Council adopts current Local Plan which set a target of 776 houses per annum until 2031.
NOV 2017
Government proposes a target of 1,054 houses per annum for Swale.
AUG 2018
Government launches prospectus on Garden Communities.
APR 2019
Conservatives election pledge to deliver the Highsted Park Garden Community.
AUG 2020
Government proposes a target of 1,483 houses per annum for Swale.
Andy Hudson
Sittingbourne.Me
Corrections and clarifications:
This article was amended on 3rd November 2020. An earlier version stated that Gordon Henderson MP arranged for Mark Quinn to meet with Transport Minister Chris Grayling to discuss Highsted Park. While Mr Henderson wrote to Mr Grayling advising that the proposers of the scheme, Quinn Estates and Kent Science Park would be in touch to arrange a meeting, that did not in itself constitute the arrangement of that meeting.
The article also stated that Andrew Bowles, Mark Quinn, Mike Cosgrove and Gerry Lewin and Gordon Henderson MP held talks with Transport Minister Chris Grayling approximately three weeks prior to Quinn Estates submitting the draft Housing Infrastructure Fund bid document. In fact these discussions were referred to in an email from Andrew Bowles to Gordon Henderson three weeks after the announcement of the HIF.
Comments
Showing comments 1 to 3 of 3

For an interesting Quinn Estates article go to KentOnline where Mr Quinn maintains that he does not build his houses to make money and the proposed Highsted development will improve air quality and actually save lives. I am not sure how building over a large acreage of farmland and countryside will improve air quality but an interesting theory all the same.
It should be pointed out that KentOnline tends not to allow any comments on news items or articles of certain topics including the one referred to above probably due to their negative nature.
Comment by James on 16 Nov 2020

An excellent catalogue of the events and actions of all the characters involved in the appalling record of betrayal by Swale tories. The saga is not over yet because we're still waiting for a decision on Wises Lane and, of course, we now have the latest egregious proposals by the Government to change the planning laws to favour developers even more.
Comment by Geoffrey Broughton on 17 Oct 2020

Thank you for telling the public about Gordon Henderson's support for housing developers and how he uses the lobbying system to benefit the Conservative Party. There appears to be no thought for the Grade 1 agricultural land lost to housing, as if we can always afford to buy in food from abroad.
We've lobbied Gordon several times on the NHS, and the scandal of child hunger in his constituency.
The result of his failure to support the NHS has resulted in people thinking they're being treated by the state service, when the NHS is often just a logo which conceals private companies making large profits. Eventually those who can afford healthcare will be ok, just as those who can afford to buy a house are ok now.
When it comes to child hunger, Gordon blames the parents for poor money management, or being drug or alcohol addicts or feckless, as he explained to us in his office. Now, sadly, more people are being exposed to Universal Credit as job losses increase due to Covid, and more people will rely on foodbanks.
I've often wondered where Gordon's heart lies, and sadly it's with property developers.
Comment by Kay Murphy on 16 Oct 2020