Dr Who themed event materialises into a huge success for organisers
To the delight of many fans and passer by alike the Forum Shopping Centre has for the past five days played host to "Who's in the Forum".
The event which featured monster-making workshops, face painting, quizzes, treasure trails and a fancy dress competition was supplemented with an exhibition of props and classic Doctor Who memorabilia.
Organiser Nikki Baker told us that "Who's in the Forum has been hugely successful, it was absolutely packed on Saturday and we're managed to raise a lot of money for KAB Sittingbourne Blind Fellowship who are this year's Forum Shopping Centre Charity of the Year."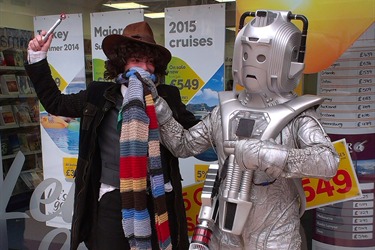 Ann Caveney from Sittingbourne Blind Fellowship said "We are delighted, we really didn't expect that we would raise this much money and we're quite pleased we went every day. I've never seen the Forum so busy. We haven't finished counting yet, but we have raised several hundred pounds."
The highlight of the five day extravaganza was the special appearance of Kronos the Dalek who required the service of security officers to fight his way through the crowds of people.
There was also a cyberman on the prowl and even a minion from the despicable me film franchise.
If you would like a Dalek at your event or want to find out more about Doctor Who inspired gifts and paintings you can contact Nikki at
nikki@luniacdesigns.com
or call on 07988 641178.
Andy Hudson
Sittingbourne.Me
Comments
There are currently no comments.