Food Festival big hit with visitors
I popped along to a Food Festival held at St. Mary's Church in Park Road this morning and was not disappointed by what I found.
Building on the success of previous food festivals, this being the third, St.Mary's have managed to establish something quite special here which is far removed from what you might expect of a Church organised event with numerous Kent based producers coming together to celebrate the very best locally produced food and drink products the County has to offer.
There was also a full programme of activities and demonstrations through the course of the day, from cookery demonstrations to decorating biscuits and potato prints for the children.
Brogdale
The only problem I had with the event was that I didn't take enough money with me, and it was a tough choice deciding what to buy, but I still managed to take away something from four different stalls.
The Fudgeman
John's Kitchen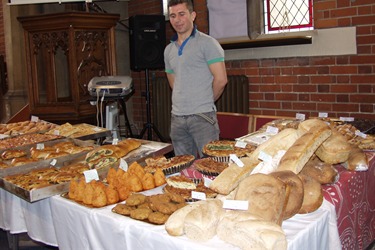 The Kentish Chocolate Company
Andy Hudson
Sittingbourne.Me
Comments
Showing comments 1 to 1 of 1

Love the site, sorry I missed the food festival, it looks really great, will make sure I don't miss it next year and will make sure I keep my eye on Sittingbourne me, to find out what's happening.
Comment by Mrs. M Atkinson on 03 Jul 2013