Hockey Club gets a masterclass from Olympic gold medallist, Shona McCallin
Last Sunday, members of Gore Court Junior Hockey Club were lucky enough to get a coaching masterclass from GB Hockey Player, Shona McCallin MBE who along with fellow teammates became the first ever British team to win a gold medal at the Olympics in Rio during the summer of 2016.
I arrived in the midst of a flurry of snow during the start of the second of two coaching sessions, the first covering 4 to 12-year olds and the second the 12 to 18-year olds.
Keen to find out how the club had managed to get such a high profile Olympic athlete to come to Sittingbourne, I set about finding Coach, Harrison Reynolds who had kindly invited me to come along and take some photos.
Harrison explained that the original intention was to see if Shona would be willing to speak at the clubs annual awards evening. He said "I heard Shona speak at Kent College Canterbury and was very impressed, she is a very engaging speaker. One thing led to another and we ended up doing the coaching sessions too."
Club Members, Ben and Sam aged 12 and 9 accordingly told us "Before the event, we felt excited about attending the training masterclass with Shona McCallin and then thankful that it was able to go ahead despite the weather. We'd like to take this opportunity to say a big thank you to the coaches for clearing the pitch in the morning, so we weren't disappointed."
"We were also thankful for the opportunity to learn new skills and develop our techniques from an Olympic gold medallist. During the event, we felt extremely cold, particularly in the second session as snow fell quite heavily."
"Shona gave us positive feedback during the masterclass and was very friendly and approachable. We learnt a great deal and will always remember the afternoon. It would be great to have another opportunity like this in the future. Thank you, Shona and Gore Court Hockey Club."
The awards ceremony took place in the evening where Shona very kindly did a Question and Answer session which was very popular with the younger members who were keen to know if Shona ever consumed fizzy drinks or ate sweets as well as some more serious topics.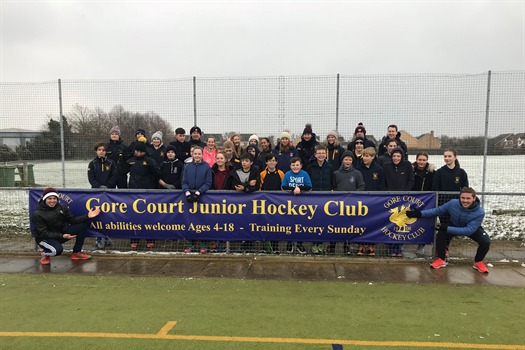 Coach, Harrison Reynolds said, "Shona was amazing and it is definitely something we would look at doing again, the feedback from members was really good."
Andy Hudson
Sittingbourne.Me
Comments
Showing comments 1 to 1 of 1

My girls Abigail and Caitlin loved it.
very good training
thank you
Comment by T.brinkman on 25 Mar 2018