Hundreds gather to honour the fallen
Unsparingly for the centenary of the end of the First World War crowds flocked to this year's memorial service at Sittingbourne Cenotaph.
The weather played a role in todays service starting with a heavy shower literally minutes before the parade a due to start, and then as if lifting the spirits of those in attendance ended in glorious sunshine.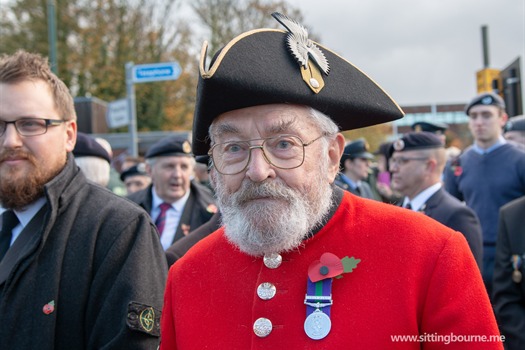 Following the short parade from the Appleyard formerly the UKP Leisure Club, to the Sittingbourne Cenotaph the service commenced with a hymn supported by the Salvation Army band
The service was led by Mrs Pat Tatchell, Chaplain to the Sittingbourne and Milton Branch of the Royal British Legion and supported by Richard Palmer Chair of Sittingbourne and Milton Regis Royal British Legion.
Following the last post and completion of the two minute silence signalled by the Reveille a huge number of wreaths were laid at the base of the cenotaph.
This was followed further readings, hymns and the national anthem and a blessing.
Following the conclusion of the service the Deputy Lieutenant of Kent, Paul Auston and Cllr Alan Horton took up position in front of the Police Station in Central Avenue to take the salute as the Parade marched past on its way back to the Appleyard.
The Sittingbourne & Milton Regis Branch of the Royal British Legion meets every third Tuesday of the month at 7:00pm in The Ypres Tavern, 22 West Street Sittingbourne
Andy Hudson
Sittingbourne.Me
Comments
There are currently no comments.