Jackson & Foxley bring the catwalk to Sittingbourne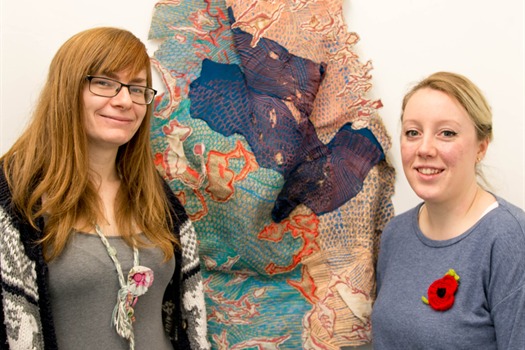 The Jackson & Foxley exhibition is a collaboration of ideas, designs and the creations of two young business entrepreneurs, Claire Jackson and Emma Foxley who want to showcase their combine talents for both Fashion and Textile design in one place.




Emma says the inspiration for the exhibition came from seeing how people had previously utilised the space (upstairs at Bourne Creative) for art and we thought that we could transform the room into something completely different, in a fun, wacky and unregimented way.



Asked about the ideas and aims behind the exhibition Emma said "I had tons and tons of tons of material back at home and no one ever sees it and it's a shame so I just felt like exploding and letting out all my creativity."




Claire added "If you want to see anything fashion and textile orientated you really have to go to London and we wanted to show people that Fashion and Textile happens here too."




Impressed that both Claire and Emma have set up their own businesses at such a young age I asked how that had come about.
Emma said "While I think there is a lot more opportunity out there now, and I had support from Kent Foundation who taught me some business basics whilst I was still studying and I been able to develop on that and pass on some of my skills to others."


Claire on the other hand explained that her course at University did not have a business element so she has had to learn as she goes, which is not uncommon in my experience.




I think that the exhibition, which incidentally has just been extended for a further week, is a great success and certainly creates an awareness of the capabilities of the talent right on our doorstep.
Here are some comments left by visitors

"An inspirational collection"

"Really like your ideas and design and the sketch books are fab."

"What can I say but Wow"

"Thought provoking use of both the space and materials"
The exhibition now continues until Saturday 14th November at Bourne Creatives in the Forum Shopping Centre.




If you want to find our more ...

Claire Jackson Printed Designs
website: http://clairejacksonprints.co.uk/
email: clairejacksonprints@gmail.com

Tall Fox Dot.
Emma Foxley
website: https://www.facebook.com/TallFoxDot
email: tallfox-dot@hotmail.co.uk
Andy Hudson
Sittingbourne.Me
Comments
There are currently no comments.