Local artists open their studio to the public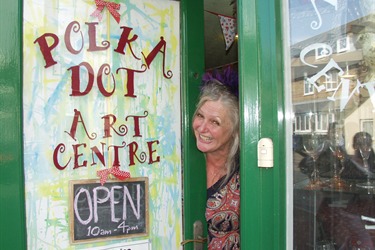 Yesterday we visited the Polka Dot Art Centre for their opening weekend to take a look around the studio and enjoy tea and cake in the surroundings of all manor of creative works of art.
Every Saturday from now until Sunday 21st December the studio is transformed into a pop up tea rooms serving Tea and Cake curtesy of Lovedayteas. Who could resist the delightful selection of genuinely homemade cakes, quite literally prepared on the day along with either a tea or coffee?
You know where possible we do like to get involved, rather than just report on these events, so I indulged with a chocolate cake embellished with maltesers and very nice it was too.
However the fun doesn't end there because every Sunday over the same period as above the Studio is open for viewing where you can come along and appreciate the creative talents of Colin Barnard and Sioux Peto.
This also coincides with their part in the East Kent Artists' Open Houses project which runs over the weekends of October 18th /19th, 27th /28th and 1st/2nd November. Showcasing new environmental art and traditional sculpture works from both Sioux and Colin the studio and garden, depending on the weather, will be open for demos and workshops.
So if you fancy tea and cake or would like to view their unique handcrafted arts works, you will find the studio along the A2 in Teynham at 54a London Road, ME9 9QN.
You can safely park on the opposite side of road.
You can contact Sioux and Colin on 01795 522566 or email
sioux@polkadotarts.co.uk
Andy Hudson
Sittingbourne.Me
Comments
Showing comments 1 to 1 of 1

Opps have accidently press the thumbs down on my own gallery - I actually really like it here

Comment by Sioux Peto on 06 Dec 2014