Local charity publishes second children's book to tackle litter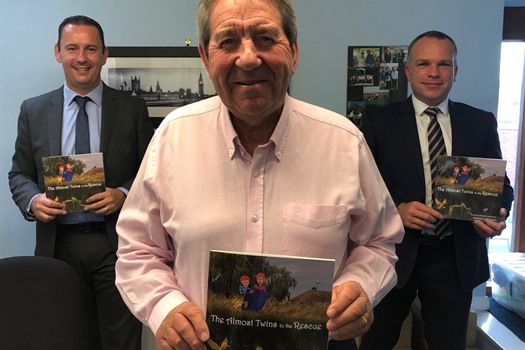 Local anti-litter charity, Litter Angels, has had a second children's book published to encourage primary school aged children to not drop litter and take pride of their local environment.
The Almost Twins to the Rescue is a 40-page paperback book written by the charity's chairman, Gordon Henderson MP, and illustrated by local artist, Kevin Ralph. The book was kindly sponsored by DS Smith, who awarded Litter Angels a grant of £5975 from the DS Smith Charitable Foundation.
Following the success of the first Litter Angels book, the two main characters, Jack and Jessica return for an exciting new adventure where they find a distressed duck trapped by a plastic bag in a canal. With the help of two Litter Angels, Eric and Erica, they manage to rescue the duck and then clean up the canal supervised by their relatives.
The story educates and encourages children to think about how litter has a negative impact on our environment and the wildlife and animals around us.
Mr Henderson said:
"As everybody knows, litter and fly-tipping are a real problem. It is not only visually unpleasant, but it can actually harm our environment.
"Litter Angels is determined to help reduce the amount of rubbish that is discarded and tries to do that through educating young children to the anti-social nature of litter. The book is not only part of that process, bus is also raising much needed funds to ensure we can get our message over properly.
"That is why I am so grateful to DS Smith for sponsoring the book and to Kevin Ralph for his wonderful illustrations."
Wouter Van Tol, Head of Sustainability at DS Smith, said:
"At DS Smith, sustainability sits at the heart of our business practice, a value which is also embedded in our Charitable Foundation. We're therefore pleased to support Litter Angels, a charity which engages closely with our Purpose. Through the launch of its compelling storybook, 'The Almost Twins to the Rescue' brings to life key environmental issues, such as littering, that are fundamental to the work we do in the circular economy, teaching children how best to take pride in the natural environment and help materials to be recycled."
All primary schools across Sittingbourne and Sheppey have been provided with two free copies of the book for their school library.
However, individuals can purchase copies of the book for £5.99 each by contacting 01795 423199 or by visiting
www.litterangels.org
. All proceeds from sales will be used to help the Litter Angels campaign to make our environment a cleaner, greener place in which to live, now and in the future.
Comments
There are currently no comments.