Local history group receives Queens Award for Voluntary Service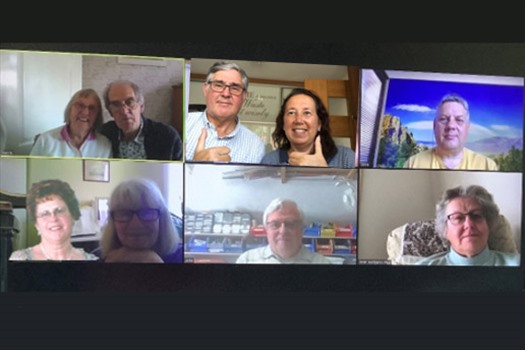 Outstanding news for a local history group… the Historical Research Group of Sittingbourne (HRGS) who run the Heritage Hub and its volunteers, have been honoured with a Queen's Award for Voluntary Service (QAVS) for 'Promoting local history through research, exhibitions, events and publications'. The award is the equivalent of an MBE to voluntary groups.… nationwide a total of 230 groups were recognised for the accolade, and HRGS are one of only four volunteer organisations from across Kent to receive one this year.
The Queen's Award for Voluntary Service aims to recognise outstanding work by volunteer groups to benefit their local communities. It was created in 2002 to celebrate the Queen's Golden Jubilee. Recipients are announced each year on 2nd June, the anniversary of the Queen's Coronation. Award winners this year are wonderfully diverse. They include volunteer groups from across the UK, including a community shop in Cornwall, an environmental group in Swansea, a group working with refugees and vulnerable people in Stirling and a thriving community arts centre in County Down.
Richard Emmett, the chairman of Historical Research Group of Sittingbourne said…" I am immensely proud of the group…the Queen's Award for Voluntary Service reflects the huge dedication and enthusiasm shown by the HRGS and Heritage Hub volunteers in the promotion of local history. There has been much undertaken by hundreds of individuals behind the scenes. It includes many hours of research and preparation, all of which helps create our heritage presentations and events. Well done team!"
Paul Auston DL Esq, the president of HRGS said… "I am delighted that the HRGS have been recognised at a national level in this way. The group have successfully engaged with people of all backgrounds and abilities to promote local heritage in the Swale and surrounding areas, and I am proud to be associated with them.
Their sterling work in promoting local history is enviable, but it is the way that they have been able to inspire a whole range of volunteers to carry out that work which is exceptional. The award is well deserved and long may they continue to prosper and carry on the good work."
Sir Anthony Cleaver, Patron of HRGS said… "I am delighted to see that Richard Emmett and all his team of volunteers at HRGS have been honoured with this national award. Their outstanding work researching the contribution the families of Sittingbourne and the neighbouring villages made to the nation's cause in World War 1 has created a remarkable archive. What is not so well known is the range of local projects that they run each year and the regular talks and publications constantly adding to our area's history. This recognition is well deserved."
HRGS was founded in 2004 and champions research into the local area's significant heritage, it also manages the volunteer stewards in the Heritage Hub, which is in The Forum shopping centre in Sittingbourne. They are a very pro-active and community engaging group of volunteers, who also participate in initiatives to bring visitors into the Heritage Hub to learn more about their work and celebrate the history of the local area. Although currently closed because of the Coronavirus, the Heritage Hub exhibition and research room has been run entirely by volunteers, who work as stewards five days a week – Tuesday to Saturday, 10am to 4pm, 51 weeks a year. Since opening in January 2015, the Heritage Hub has attracted over 30,000 visitors.
In 2015, the group was offered the exhibition space in the Heritage Hub to showcase the many aspects of their historical research that they have undertaken which included their research into the First World War. Additionally, HRGS volunteers have been instrumental in organising several World War One centenary events in Sittingbourne and on the Isle of Sheppey, working in conjunction with other local volunteer heritage partners and arts groups. The group hold numerous research meetings and have produced biographies of over 3000 local men and women who lost their lives because of WW1, producing a valuable social history resource available to researchers.
Notable events organised by HRGS during the World War One centenary were - The Somme 100 (Whistle Stop at 7:30am and then 'Hope - Courage and Catastrophe' at 7:30pm) – both took place in Sittingbourne, at the town's war memorial. HRGS also worked alongside the Kent Community Rail Partnership to produce the Ambulance Train event in November 2016, for which the event was awarded first place in the Association of Community Rail Partnerships (ACoRP) Community Engagement project in 2017. Then they facilitated the Passchendaele 100 event in 2017; they researched and produced of the Wall of Reflection which remembered the 1149 names of the local fallen and was formally dedicated in 2018. Then in 2019, the group organised and held the Walk of Reflection along the High Street to commemorate the signing of the Peace Treaty of 1919, which involved hundreds of local residents and relatives of the fallen. The group has additionally published five WW1 themed books throughout the centenary.
Aside from the WW1 project, HRGS has been extremely active working within the local community, by undertaking two main archaeological research projects. The Bredhurst community archaeological dig, conducted over the last ten years, investigating a late Anglo-Norman settlement. And, the Rose Hill community archaeological dig, conducted between 2015 and 2018, was an investigation into the remains of a Georgian building and estate. These HRGS led archaeological excavations, have involved working alongside the KCC community archaeologist, members of the community and local schools and pupils. Those from the local community all gained new skills and a greater understanding about local history.
HRGS also produces a monthly magazine, called The Archive for its members, and has arranged a talks programmes together with the Sittingbourne Heritage Museum. Members of the group carry out 'outreach sessions' visiting schools and delivering lectures and showing historical artefacts. Their work continues, with new members even joining during this period of social distancing…utilising new technology to enable remote research. If you would like to become involved with HRGS please contact richard@hrgs.co.uk.
When restrictions allow, the group look forward to receiving a crystal award with the QAVS insignia together with a certificate signed by HM The Queen, which will be presented by Her Majesty's representative, the Lord Lieutenant of Kent - Lady Annabel Colgrain. Furthermore, two volunteers from the Historical Research Group of Sittingbourne will attend a garden party at Buckingham Palace in May 2021, along with other recipients of this year's Award.
Comments
There are currently no comments.