New Creative Hub for Sittingbourne
Take a casual glance at the new shop frontage in the Forum Shopping Centre and you could be forgiven for mistaking 'Bourne Creatives' as a reincarnation of the Workshop 34 project that existed in Sittingbourne High Street some months ago.

Whilst there are some similarities in its presentation and even amongst some of the artists participating, there are also significant differences.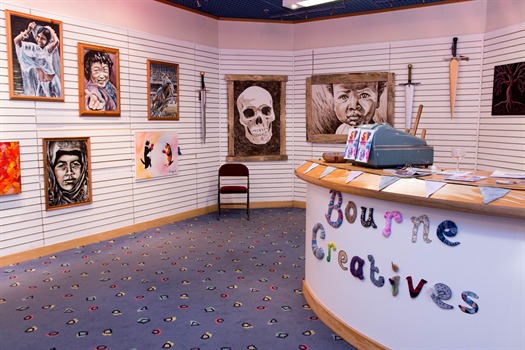 For a start unlike previous ventures this is not funded by the public purse or private donation, this is a real commercial venture undertaken by the Swale Arts Forum, who are hopefully in it for the long term.

Talking with Swale Arts Forum member Emma Foxley last night you could sense the genuine excitement members have about all the possibilities that lie ahead.




Emma told us "This is a space run by the people for the people."

Without doubt the Swale Arts Forum have played a significant part in driving forward changes in both the perception of the local artistic community and in their engagement with the local community.
Headline events, such as Artist in the Woods, Chalk it up and the recent Sci-Fi festival are great examples of public engagement and the new space will offer even more opportunities to extend their reach.

Perhaps it's true after all that you don't have to be born creative to have some fun and immerse yourselves in the art world.
Andy Hudson
Sittingbourne.Me


Comments
There are currently no comments.