Outdoor creative fun with an African theme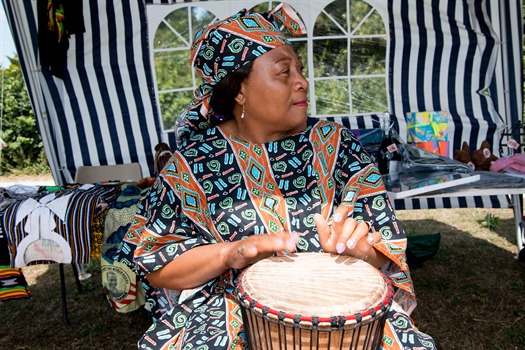 For once a gloriously sunny day for Art in the Park which this year adopted an African theme, with opportunities to try your hand at African drumming, taste African food and join a workshops on African clothes and jewellery.
Besides the wealth of stalls dotted around the park, there were a range of performances throughout the day including, Kent Corps of Drums, Abbey Ukulele Players, Swale Sings, Dudes and Divas Dance and The Bredgarettes.
There was of course a lot of creativity with members of the Swale Arts Forum drawing, painting and even weaving coloured striped of plastic into a wire fence to create the most amazing works of art. See Dean Tweedy's creation above.
1st Murston and Bapchild Cub Scouts were cooking their amazing donuts and undertaking an impromptu dance routines at one point.




Winners of the schools Art in the Park competition were announced, and in the 11-15 year old category Nazine Hanson won first prize with the Iron Man drawing and Shannon Baker came second.
In the 16-18 year old category Marni Cockell gained first prize with the barn drawing and Beaulie Stevens came second with the photo collage.
Andy Hudson
Sittingbourne.Me
Comments
There are currently no comments.