Outraged Tory councillors should take a hard look in the rear-view mirror
Recently a number of Swale Conservative councillors wrote to the Secretary of State, Robert Jenrick asking to extend the period of the current Local Plan consultation.
Following the criticism councillors agreed to extend Swale Borough Council's local plan review consultation to Friday, 30 April providing one of the longest consultation periods in recent history at 11 weeks and 5 days.
Previously the consultation period had been scheduled for six weeks.
However, a council spokesperson told us:
"We are satisfied that we have carried out our requirements under the planning regulations in terms of evidence base gathering, community engagement and consultation leading to the Draft Local Plan Regulation 19 Consultation Draft Publication.
"Formal representations can be made until 30 April 2021 and we will review the representations and consider how we wish to proceed with the Draft Plan and our submission to the Secretary of State."
In a recent Kent Online article Cllr James Hunt said "It is unrealistic to expect residents and parish councils to absorb such an enormous amount of information in such a short time, especially if the information is changing, incomplete or inaccurate."
However a quick scout at the previous four Local Plan consultations, conducted during the previous conservative administration, will show that they too were all around six weeks in length.
Not only that but one of them began on 19th December running over the Christmas break when quite frankly most people have better things to do. The conservatives also used the other trick of running consultations over summer holidays which they employed twice.
Bearing Fruits Local Plan Part 1 Consultation Draft
19th August - 30th September 2013 (6 weeks)
Bearing Fruits Local Plan Part 1 Publication Consultation
19th December 2014 - 30 January 2015 (6 weeks)
Bearing Fruits Proposed Main Modifications Consultation
24th June - 8th August 2016 (6 weeks 4 days)
Looking Ahead Consultation
27th April - 11th June 2018 (6 weeks 4 days)
In fact the longest consultations the conservatives ran on the current Local Plan were the first two, which were longer because it was a whole new plan. This time however, we are dealing with a review, not an entirely new plan.
Pick You Own Consultation
17th Jan - 14th March 2011 (8 weeks)
Bearing Fruits Consultation
26th March - 18th May 2012 (7 weeks 4 days)
Cllr Cameron Beart (Queenborough and Halfway) is quoted in the Kent Online article as saying: "It is quite normal for there to be three stages of consultation for a new or revised Local Plan."
I confess I am not a councillor and am not privy to the legal process behind these consultations, but I am struggling to see where the three stages were in the last two revisions of the plan. It took around six years to produce the current plan, but obviously it's impossible to spend that amount of time on a review when the plan has to be reviewed every 5 years.
If I'm not mistaken the Looking Ahead Consultation on Garden Community developments which introduced considerably more housing than the present consultation was just a single stage and lasted 6 weeks and 4 days.
Then prior to that the Proposed Main Modifications Consultation dealt with extending the draft plan to include additional housing required by the Conservative government, not entirely unlike the purpose of the current review of the Local Plan and also lasted 6 weeks and 4 days and was a single consultation.
Then there was a similar situation in 2006 when Stones Farm was suddenly added into the Local Plan at the very last minute and again the consultation lasted around 6 weeks and was a one off. Incidentally just for the record this was also conducted over the summer holiday period ending on August 25th 2006.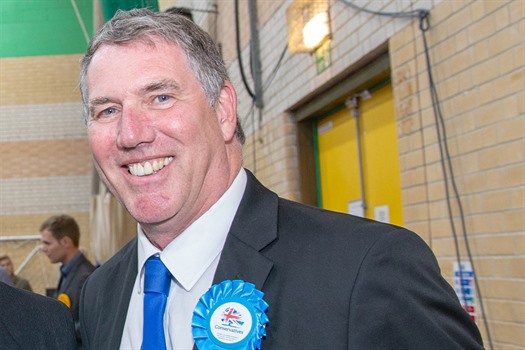 I'm also finding it slightly ironic that Cllr Mike Whiting (Con, Teynham and Lynsted) is apparently shocked at the scale of development in Teynham and Lynsted.
Recently the Conservative endorsed scheme for Highsted Park which aims deliver some 1,250 houses between Bapchild and Teynham and a further 8,000 between Bapchild and the Kent Science Park was put forward by Quinn Estates, but I guess if it's a manifesto promise which would benefit one particular development over another then that's an entirely different matter.
I might add that the Highsted Park scheme is not included in the Local Plan, so this is Quinn Estates chancing their arm on the possibility that central government will step in.
If we really want to take a look at some of the Conservatives other consultation highlights, we could look at a consultation that took place in 2009 when several residents who had approached Swale Borough Council with questions on the consultation were told
"the Council do not enter into correspondence with regard to planning matters and that any comments received will be given to the appropriate committee for consideration."
In other words we might get back at some point, if at all, long after the consultation has ended.
Then there is the case of the Economic Development Strategy consultation which took place in March 2006 where the conservatives pushed through their proposals within 24 hours of the consultation ending. No doubt plenty of time to consider the merits of all the responses.
On the subject of the newly extended consultation Cllr Mike Baldock, deputy leader and cabinet member for planning, said:
"We are pleased the local plan consultation has been extended by an additional 38 days, increasing the total consultation period to almost 12 weeks – twice the length of the previous consultation for the Local Plan Review in 2018.
"We've worked hard during a difficult year to finalise a local plan with innovative policies that we are proud of, and we want people to have the time they need to submit their representations.
"With libraries and council offices closed due to the pandemic, we're unable to provide physical copies of the plans at these locations as we normally would, but the plan can be viewed on our website, and hard copies can be mailed out to those who need them.
"To make sure as many people as possible have the chance to respond, we'll be writing to all households to let them know how they can share their views."
Comments
There are currently no comments.