Residents brave cold to plant trees for a greener future
Today I went along and met with some of the volunteers who had turned out on a fairly cold morning in January to spend time planting trees at the Milton Creek Country Park as part of a community drive to enhance and maintain this well used facility.
I found Dave Eldred, who along with Cllr Tony Winckless and others were busy planting a section of screening somewhere approximately to the rear of properties along Turner Close.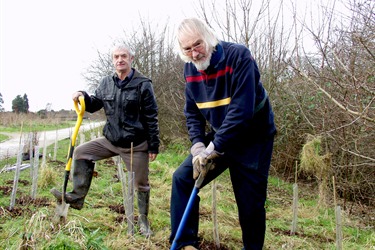 Mr Eldred explained that the new saplings could only be planted at this time of year and that during the course of today they aim to plant around 450 trees in a few selected locations around the park.
This section along the edge of one of the main thoroughfares through the park had been previously planted, but for whatever reason the trees had not taken.
In the 10 years or so this the community came together and The Milton Creek Trust was set up, they have managed to plant an impressive 8,000 trees. Depending on funding the aim is to have three or four such sessions during each year.
Today thanks to an award from the Woodland Trust they were planting a combination of Hazel and Dogwood. Mr Eldred said the Hazel was quick growing and they have used this in the past to form some hedges an example of which can be found along the perimeter of the Church.
If you think you like to take part or help with similar events then please contact the Friends of Milton Creek Trust via their website
http://miltoncreek.co.uk/contact/contact-us
Andy Hudson
Sittingbourne.Me
Comments
There are currently no comments.