Residents united in their campaign against more housing in Sittingbourne.


On Monday evening I witnessed first-hand the full scale of the opposition against plans to develop 600 new houses off Cryalls Lane and Wises Lane. A level of opposition that I personally haven't seen in nearly a decade, there must have been around 300 residents packed like sardines into Borden village hall.

To say that the public meeting organised by the recently formed campaign group Borden Residents Against Development (BRAD) had surpassed even the best expectations of the organisers wouldn't I think be understating matters.

When I arrived residents had spilled out of the village hall entrance into the car park, desperately vying for any spot where they might hear the proceedings of the meeting.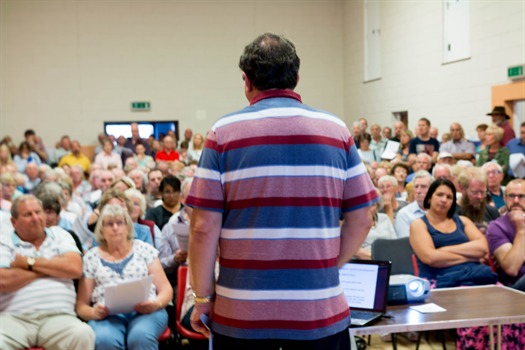 Even during the short-time I was present, the meeting appeared extremely well structured, the BRAD panel consisting mainly of residents had the support of Cllr Mike Baldock and Cllr Roger Truelove who were on hand to provide answers to some of the more technical questions, although it has to be said that the remainder of the BRAD team were doing pretty well all on their own.

Advice was provided on a whole range of issues, from the emotive to the planning led issues that residents might like to consider in their responses, including various options on how to respond. I expect Swale Borough Council will be receiving a large mail bag shortly.

Quite unexpectedly BRAD members had spotted a few gremlins with the consultation itself, which I have to say even caught myself out. Firstly, the web site address of the main Local Plan consultation document has been changed midway through the consultation and secondly it would appear that some documents have also been updated too.




Karen Longley - local resident and member of BRAD said "It was fantastic to see so many people who really care about their community at Borden Parish Hall last night, to support BRAD. It highlights just how ludicrous this proposed plan is"

"We will continue to fight the council on this - not for glory, not for our own political means, not because we want to cause problems but because it is WRONG."

"It is a ill thought out and unsustainable plan for this area - but it would be an 'easy' solution for Swale BC to meet housing targets with their preferred partners."

"That is not good enough, and our voices will be heard."




Speaking after the meeting, local resident Pauline Field told us "The meeting was very informative and there was an excellent attendance. The whole development is in the wrong location and the traffic impact will gridlock the surrounding area creating problems for Sittingbourne as well as Borden."

BRAD member Cllr Mike Baldock said "People are deeply concerned about the effects that the housing will present, the change to the nature of the area and to impacts the surrounding countryside, the significant transport issues and lack of viable mitigations measures."

"The idea that 600 new houses are going to ease congestion through Sittingbourne is farcical."

"It was a very productive meeting, residents very fired up about it and hopefully now very confident in how to respond and make their views known."

BRAD member Richard Wills said "Whatever the outcome for our countryside gap, it has brought together the people of Borden to form a friendship gap."

Andy Hudson
Sittingbourne.Me



Comments
Showing comments 1 to 1 of 1

If anyone is interested there is a Just Giving page which aims to raise funds for legal advice
We're raising money to fund legal advice to oppose the allocation of land in Borden, Sittingbourne for approximately 570 houses on existing agricultural land.
Comment by Jo B on 14 Jul 2016