Sittingbourne Community Hosts Action Packed Day at the Forum
Well there was certainly plenty of action at today's Community Action Day at the Forum. Here are some of the lovely people we met today promoting their worthy causes.
Swale Guide Dogs for the Blind Association from left to right, Mavis Yale, Trisha Earl, Anne Lunnon, Paul Smith and David Yale with their dogs Pedro, Jackson and Oakley
Beverley Willis and Chris Bunting promoting the Rotary Club of Sittingbourne Invicta.
Louise Allen of the Skillnet Group which helps support people with and without learning difficulties to work together to make difference.
Yak Crew members Teflon and BBoy Maze who put on an amazing performance which you can watch for yourself on our videos page.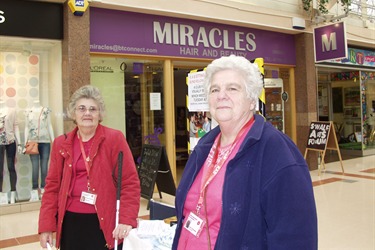 Doreen Goodwin and Anne Caveney of KAB Sittingbourne Blind Fellowship who are this years Forum Shopping Centre Charity of the Year
Entertainment from the Sittingbourne Family Church Puppet Ministry "Inspirations"
Kerry and Donna from Weight Watchers, are they trying to tell me something?
Nikki Baker promoting the up and coming Who's in the Forum a Doctor Who inspired event this Easter.
Promoting the excellent Avenue Theatre
Steve Harding and Monty Davis who have never played together before today putting on an impromptu performance in the pART Project shop.
Andy Hudson
Sittingbourne.Me
Comments
There are currently no comments.