As the battle lines are draw, Cllr Bowles so-called impartiality threathens to disenfranchise residents from the planning process
Home
/
Blog
/ As the battle lines are draw, Cllr Bowles so-called impartiality threathens to disenfranchise residents from the planning process
Progress on the review of the Local Plan which has to be adopted by 2022, is escalating at a rapid rate of knots but how open and transparent will it really be? Will we simply be given a choice of options A, B and C when actually would not choose any of them?
It's a review whose outcome was predetermined even before the current plan had been adopted. It undermines that value of the seven years or, so we spent consulting on our Local Plan and seriously stretches the scope of what a local plan review is supposed to encompass. I would go are far as to suggest it is technically a completely new local plan.
Last week our council leader Andrew Bowles called for a proper debate on the 11,250 homes promoted by Quinn Estates on behalf of Kent Science Park, saying that he would not be drawn on whether he would be for or against the proposals. This just weeks after the council branded the governments consultation on further increasing our housing targets as unrealistic.
However, Cllr Bowles comments are more than a little disingenuous, as he has actively promoted the concept to government and he was doing so whilst the government inspector was still mid-way through a public inquiry into the plan which reached the conclusion that neither the expansion of Kent Science Park or the Sittingbourne Southern Relief Road be included.
Given that in October of 2016 Andrew Bowles personally wrote to the Thames Estuary Commission outlining an opportunity to create new community villages in south Sittingbourne to support the development of Kent Science Park, I am struggling to understand how Cllr Bowles can claim that he remains impartial on this matter.
Then there is the small matter of the bid for funding from the Housing Infrastructure fund endorsed by Cllr Andrew Bowles, Cllr John Wright and Cllr Mike Whiting which states
"facilitates the potential for a significant area of additional land to come forward for development at the appropriate time by allowing circa 1,000 acres of previously inaccessible land to be brought forward for housing, in a single cohesive manner. By concentrating development in this area, it is possible to apply the principles of garden village design"
One interesting observation about the bid is the implied intention to deliver the Southern Relief Road ahead of the Northern Relief Road.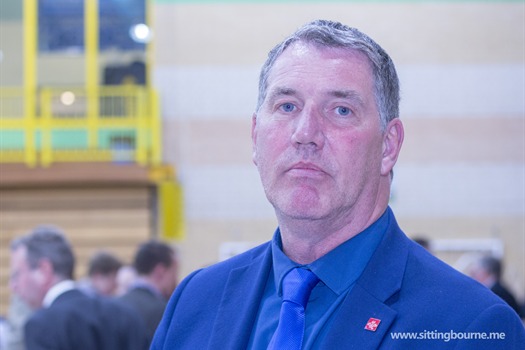 Cllr Mike Whiting who just been appointed to the KCC Cabinet and is now in charge of transport has also been busy lobbying government for the Sittingbourne Southern Relief Road, although there
appears
to be some blurred lines on whose interests he was representing at the time.
It may then come as something of a surprise to learn that Cllr Whiting who has just backed a funding bid which clearly outlines its manifesto supporting a mass house building programme to learn that in 2011 he accompanied the Five Parishes Opposition Group on a protest march opposing extremely similar proposals.
Cllr John Wright is a little more forthcoming and openly acknowledges the housing is essential to delivering what is now council policy.
"It is the councils' position that the northern link road to Bapchild is completed soon to relieve traffic in Sittingbourne and a southern link to a new junction 5a on the m2 is open to save traffic going through Teynham and Faversham a requirement from Faversham councillors."
"The delivery of this will be dependent on building many more houses"
Andy Hudson
Sittingbourne.Me
Comments
Showing comments 1 to 5 of 5

Please find a link to an interesting article on the Campaign to Protect Rural England website
"How land promoters erode local democracy" article dated 17/1/18
https://www.cpre.org.uk/magazine/opinion/item/4754-how-land-promoters-erode-local-democracy
Comment by kevin godfrey on 19 Jan 2018

Seriously, Andrew Bowles? The sooner we get a fair and decent leader of the council the better! How about building a garden village next to your home in Faversham? Notice there are no plans for housing anywhere near your home- Mr NIMBY.
We all know the houses will be built, but the doctors surgery, schools etc will either never be built, or will be delayed for years, causing more misery for the residents of Sittingbourne, trying to get an appointment with their overstretched gps! Or finding a suitable school for their children.
Comment by D Baker on 14 Jan 2018

So much for transparent local, democratic government. There is a small clique of local politicians in Spin City who , for whatever reason, have been * bent for nearly 15 years to build mass housing developments on open countryside in the North Downs. As one plan fails they dream up another contrary to the wishes of the vast majority of their electorate. Just a few landowners and developers love their stance.There is one vey obvious solution - do what the electorate did in West Downs - vote against the Tory gang which consistently fails to represent you. I do not hold with the belief that if you pin a blue rosette to a donkey in some areas, then it will be guaranteed to become a Spin City councillor . Unfortunately, evidence suggests I might be wrong.
The power is in your hands.
Comment by John Bonney on 14 Jan 2018

i say, if there is money available the NHS and welfare system Has Failed in KENT !! what is the point in building 11,500 more homes = 35,000 more residents to add to the Problem ? i Just Dont get it !!
Comment by steve davie on 14 Jan 2018

If this proposal goes through, I would hope the southern relief road is built before any housing is erected.
Unlike the northern relief road, which has not materialised and dose not appear to be anywhere near completion.
Without the southern relief road being completed, planning permission should be withdrawn.
Comment by D J Pollitt on 14 Jan 2018