Spectacular jubilee memorabilia helps church fund new lighting
A friend told me that I should pay a visit to Borden Church to see the display of royal memorabilia. He explained that they had a few royal plates and stuff.




I'd seen a couple of photos and surmised that there would be a table or two of jubilee plates, cups and saucers, so imagine my surprised when I arrived to find three sides of the church set out with displays of row upon row of cups, saucers and plates. Certainly, one of the most spectacular collections I've ever seen.




The collection was on display over the Platinum Jubilee holiday to help raise funds for new lighting for the church which is considered more in keeping with the building and to ease the longer-term maintenance.

I was fortunate to find the owner of the entire collection, Chris Andrews and ask a few questions.

How did you get started?

"I was given one mug for the silver jubilee and I turned round and said wouldn't it nice to have a collection. Suddenly people were giving me more and then I would go out and I'd see one that I had not got and thought, oh I'll have that one, it will go nice with the others, and it just got bigger and bigger and bigger."





Some of the collection pre-dates the silver jubilee by quite some margin, so where do those come from?

"Some of them I brought at auction and some in little antique shops. You see something and recognise which ones I haven't got."





I'm surprised that you can remember what you have with a collection of this size. Do you have any idea how many pieces you have?

"There are 1,600 cups, mugs and plates, but we have not counted the saucers and side plates that go with the cups."





What is the oldest piece in the collection?

"That would be a Queen Victoria bone china cup and saucer set, celebrating the Diamond Jubilee in 1897."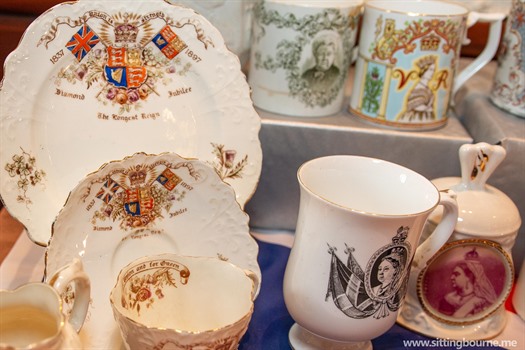 Do you have a favourite piece?

"A Christmas pudding bowl. The pudding bowl is one from Buckingham Place which the Queen presented to her staff. A friend one mine works in the place and he had two and he gave me one of them. I don't know if you saw on television, last year or maybe the year before, they had Prince George stirring the Christmas pudding in one of those bowls."





Is there any single piece that is quite expensive compared to the rest?

"If I go by ebay, there is one plate that is up for sale for £7,500 which only cost me £14"





What are the most fun or interesting pieces?

"Sophie and Edward, never had photographs of their faces on any of the pieces, just silhouettes not actual pictures."





Anything else?

"And of course you have Charlies earhole "


Andy Hudson
Sittingbourne.Me
Comments
There are currently no comments.