Swale only gets 0.5% of growth deal investment for South East
Swale has only managed to attract investment in one of the eight projects put forward in the bidding process for a share of the governments 'Growth Deal' funding over the next six financial years.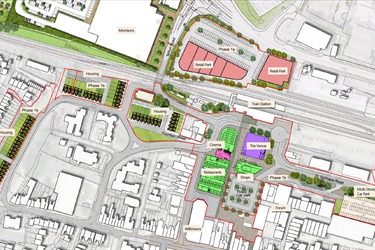 The South East Local Enterprise Partnership announced today that they had been awarded £442.2 million to boost jobs and homes, however Swale's share is just £2.5 million.
The only scheme to be brought forward is one for Sittingbourne Town Centre Regeneration which is designed to deliver improvements in the vicinity of the railway station.
The aim is to improve 'walkability' (is that even a real word) between the train station and the town centre.
This will apparently be achieved by converting Dover Street from one-way to two-way traffic, which will enable the station forecourt (Dover Street/St Michael's Road) highway to be reallocated as pedestrian space and improve connections to the town centre.
A spokesman for Swale Borough Council, told us that they we not able to release any further information on this at the moment and that a number of issues would need to be addressed.
This initiative will support the regeneration of Sittingbourne Town Centre and the delivery of 500 houses and 950 jobs.
Projects that missed out on investment include M2 Junction 5, Junction 5A (Kent Science Park), Northern Relief Road, A249 Grovehurst Junction, Swale Skills Centre and Sittingbourne Further Education.
Andy Hudson
Sittingbourne.Me
Comments
There are currently no comments.