Brothers Karl and Luke Barnes plan to walk over 100 miles to help mum
Following hot on the heels of last year's equally gruelling 107 mile walk between Sittingbourne and Brighton, 27 year old Karl Barnes and younger brother Luke 24, plan to continue their journey heading off from Brighton Pier on 28th September and making their way round the coast to Bournemouth Pier.
As per last year the pair plans to camp out in tents each night at various predefined points along the route. However this entails hiking for approximately 12 hours a day, for four consecutive days and equipped with roughly 40 kilos of kit.
Karl told us "When we found out that our mum had Alzheimer's in 2012 at age of 55 we desperately wanted to do something to help, and we came up with the idea of walking 100 miles to raise money for Alzheimer's research."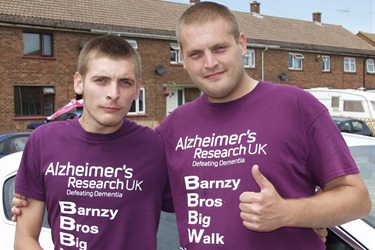 "Whilst we aim to raise as much money as possible, we also want raise awareness of Alzheimer's itself which is often misunderstood and not talked about enough. Our mum had no prior warning signs, it literally happened out of nowhere and people generally don't realise that Alzheimer's can take hold at such an early age."
Luke said "We had such an amazing time last year, you get to see so much more travelling on foot. We had the chance to stop off and do things you wouldn't normally do and talk to people."
Karl added "Everyone was very friendly and encouraged us along the journey; it gave us a boost when we were feeling tired and every limb ached.
Regaling tales of last year exploits, the pair highlighted some of their less fortunate moments, such as pitching up on Camber Sands beach after dark trying desperately to keep the tent on the ground in the wind and spending the night on pebbles which was extremely uncomfortable. They did also have some highlights including a magnificent breakfast at a Café in Rye, which they explained was the largest they had ever had.
Last year's the pair raised £345 for Alzheimer's Research UK, but hope that they may do a little better this year, so if you would like to help you can do so by visiting
https://www.justgiving.com/karlbarnes/
or Text BBBW99 £1-£10 to 70070
Andy Hudson
Sittingbourne.Me
Comments
There are currently no comments.