WW2 Veteran's Life Story Benefits Charities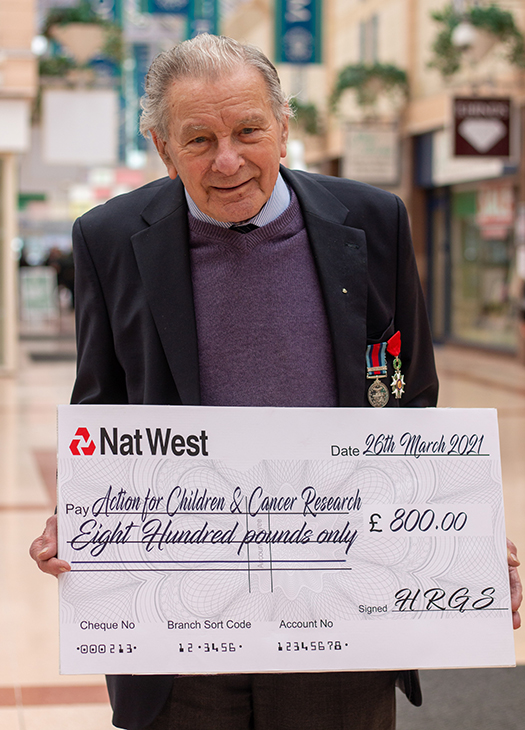 Ernest Slarks, who was born in Milton Regis, and still lives in Sittingbourne, has raised £800 for two of his favourite charities with a 200-page book which tells his life story.

Last Friday, the 26th March 2021, marked Ernest's 98th birthday and he was invited along to the Heritage Hub in the Forum where he was presented with the proceeds from the sale of book by Richard Emmett, chairman of HRGS. The money will be equally divided between Action for Children and Cancer Research UK.
His 200-page book which tells his life story, and his journey through the Second World War provides an evocative account of his childhood in Kent and his war experiences, both joyful and stressful.




The book was initially published last year in 2020 to commemorate the 75th anniversary of the end of World War Two, but this coincided with the height of the global pandemic and the national lockdown. Undeterred, Ernest asked if the book could be published with the assistance of the Historical Research Group of Sittingbourne (HRGS), who made it available on-line to mark that important anniversary. Subsequently, HRGS and Ernest's family were able to have the book printed. The book is still available, both as a pdf and a paperback online via the HRGS website www.hrgs.co.uk. Proceeds will continue to be collected for these two charities.
This book charts the story of an ordinary man born in Kent, in 1923 and called up to fight in World War Two. He landed on the Normandy beaches in June 1944 in a Sherman tank, and experienced heavy fighting through France and on into Belgium and Holland.
Being de-mobbed from the army in 1947, he married and made a fresh start, as many thousands of men had to do. The Methodist Church has been central to his life and he served as a Methodist Lay Preacher for over 80 years.

As one of the surviving veterans of the WW2 Normandy campaign, he has been awarded the Legion de d'honneur by President Francois Hollande, and in 2019 he was one of 250 veterans who returned to Normandy as part of the Royal British Legion's D-Day 75th Anniversary Veterans' Voyage of Remembrance, on the cruise liner MV Boudicca.




This humble man always says, 'I have done nothing special. I am not a hero. I was simply one of over a million British men called on to help free Europe from the scourge of the Nazi regime, but lucky enough to come through it largely unscathed'.

Richard Emmett, chairman of HRGS said, "We are absolutely delighted to help Ernest tell his story and assist him raise this money for charity through the sale of his book. We wish him a very happy 98th birthday, and words cannot say thank you enough for what he and his generation did for our country".

There will be a display about Ernest, together with some of the images from his book in the window of the Heritage Hub, The Forum Sittingbourne from 26th March till mid June.


Comments
Showing comments 1 to 3 of 3

Well done Ernie i look forward to reading the book, hopefully i can collect one soon from the HM.
Linda Brown
Comment by Linda Brown on 01 Apr 2021

It has been a pleasure knowing you Erni and Jean who was one of the most amusing and lovely people I have known. I wish she could have been here now to see you, Erni you have been an inspiration to us.
Comment by Penelope Lyndon-Stanford on 29 Mar 2021

Thankyou to Andy for coming to the Forum and taking for some great photos
David Slarks (Ernest 's son)
Comment by David Slarks on 29 Mar 2021